As part of our daily lives, much is on our minds, be it family, work or even an upcoming vacation, but one topic we tend to shy away from is death, although inevitable.In our society, it is a topic that is considered almost taboo, one that no one enjoys spending too much time focused on. When the inevitable strikes though, there is much to consider regarding funeral arrangements and commemoration of the loved one.Some even pre-plan for themselves or their loved ones to diminish the stress of sudden decision making. If a headstone is desired, questions arise as to what shall grace it, what the epitaph should be and ultimately how the person should be memorialized.
If a headstone is the chosen approach to honor an individual, R.H. Snow Memorials has a long standing reputation. It has been a fixture in Norwich since 1912. The business has continued to meet a never ceasing need for tombstones. Although the company itself has been in operation for decades, the current owner took over only a few short years ago, in the fall of 2015. Snow is owned by John ( Jack) B. Sterry, who also runs the Fox-Becker Granite Company (monument maker) and Short Load Concrete, LLC, both out of Middletown. Although based out of Middletown, Sterry has deep Norwich connections. His grandfather, Edward L. Sterry, was born in 1900 in Norwich-town.
While growing up, Jack frequented eastern Connecticut. This helped entice him to buy R.H. Snow R.H. Snow is run by Laurel Mueller, who has been in the field for over 20 years and with R.H. Snow since the fall of 2015.
When asked what drew Jack to this field in the first place, he replied, "I always liked to work with my hands, but did not want to work with wood or metal. I wanted to work with something that will last for hundreds and hundreds of years, if not thousands." This is the perfect medium for him since long lasting it is, not only in actual material but also what the stone represents for loved ones.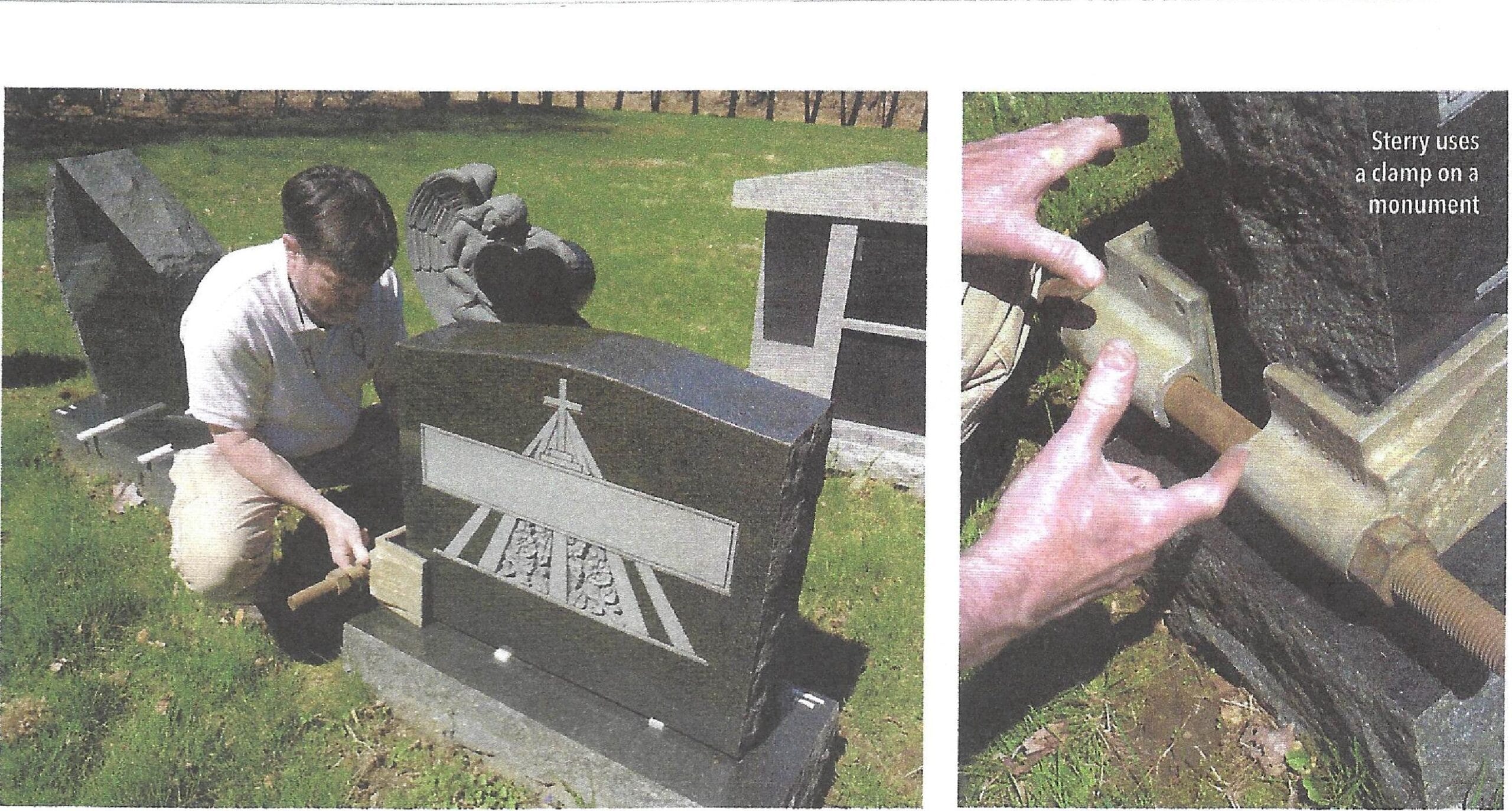 Unlike many jobs nowadays that have been eradicated or altered immensely by technology, this field has adapted to 21st-century techniques, but still remains true to form. Sterry says, "Technology has changed some parts of the job, especially the quarrying, cutting and polishing of granite." Technology has also improved the design process. The customer chooses designs from a "wish list:' which are then laid out on a computer. Still though, while some of the job has changed due to technology, other aspects such as carving roses or other shapes into stone need to be done by hand.
For novices who would not know Ver­mont granite from Chinese granite, Jack provides a little insight into the material they use.
"We use granite from all over the world, but will only use good, better and best quality granite for our customers. I'd recommend to any customer looking for Barre Gray Granite from Barre, Ver­mont, not to settle on the term Vermont Gray. Oftentimes Ver­mont Gray is usually Chinese Gray (very poor granite that has been shipped into Barre, not originally from there). That being said, we only offer granite that we would use for our own family."
Granite quarried in Barre, Vermont, is known for being high-quality and durable. (For an incredible display of Barre Gray Granite, visit the Hope Cemetery in Barre, Vermont. Many interred here were former granite workers and designed their own elaborate tomb­stones.)
In Norwich, R.H. Snow com­bines years of dedication to the town as well as a top quality product that is delivered in a time of need. As being a fixture in the Bean Hill section of Nor­wich, Sterry knows that being neighborly is extremely important. Jack says, "We try to be good neighbors and keep the noise down from the shop to daytime hours, from after 8 a.m. and never past 6 p.m." This approach has helped build great relationships between the business and Norwich as Jack explains, "I think with us trying to be good neighbors, the town respects what we do. We have done work in the past for various (town) projects."
The relationships between those in Norwich and R.H. Snow have been well established, "Customers buy from us because of our long history dating back to 1912." With such a history, clergy, past customers and funeral directors are quick to recommend them to those in need. Even in the most dire of times, it is important to have an institution such as R.H. Snow in Norwich to provide incredible support and a quality lasting product.